The construction industry has been thriving, with most contractors having a full pipeline for the coming year. But the CEO of a well-known construction contractor specializing in high-end commercial projects is concerned about the company's inability to retain customers.  
The leadership team appeared to have great ideas; they were good at execution and went above and beyond to take care of customers. But, feeling stumped, the CEO brought up the situation to his executive coach and discovered a new approach called "The Working Genius Assessment." 
Based on Patrick Lencioni's recent book, The 6 Types of Working Genius, the results provided his team with clarity and a way forward!  
THE SIX TYPES OF WORKING GENIUS
The Working Genius Model uncovers six types of natural talents and gifts when it comes to getting things done. 
Two of those six come naturally—giving you energy and joy. These are your areas of Working Genius. 

Two others are not natural nor energizing, and we call them Working Frustrations. 

Finally, there are also two areas in the middle. You can do them fairly or even very well if your work requires it, but they don't give you great energy and joy. These are your areas of Working Competency. 
A description of the 6 types of working genius: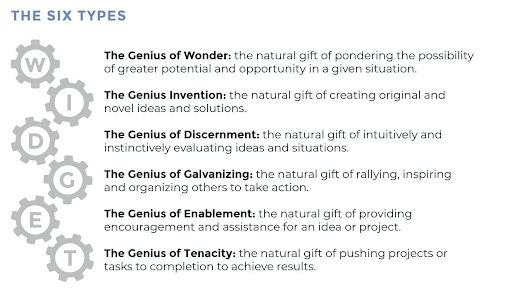 The Working Genius Assessment can help anyone identify their gifts and limitations to maximize satisfaction and contribution in their work and life! 
Check out www.workinggenius.com. The assessment costs $25 and takes only 10 minutes!  
TRANSFORM YOUR WORK
Lencioni describes how this groundbreaking new model will forever change how we think about work and teams. He claims that by knowing our Working Geniuses, we'll experience the following benefits:
Increase job satisfaction and productivity: You achieve this by maximizing the time spent in areas of genius while minimizing the time spent in our areas of frustration. Based on your results, you might find these questions helpful:
How do you contribute using your geniuses in your current job?

Where are you experiencing exasperation or burnout?

Can you adjust your responsibilities to allow more time for operating within your areas of Working Genius? Shifting your job slightly or significantly increases your passion for work.  
Experience greater trust and improved morale: They will have better meetings and enjoy more success in hiring the right people. The Working Genius Assessment provides a team map that identifies the following:
Your team's strengths.

Your team's weaknesses or gaps.

A possible explanation for your team's past successes and/or failures.
Identify any adjustments to augment areas of genius that need to be improved: For example, we might consider reorganizing roles and responsibilities that allow people to utilize their areas of genius better. 
Here are some considerations:
Is there anything we should adjust or reconsider about a project or priority to maximize our effectiveness?  

Can we borrow people from other departments—or even hire someone new—to address areas where we lack the necessary genius?

For those teams that lack the genius of Wonder, are there strategies —such as Clarity Breaks—that can help augment the team's need for more time to think, ask questions, consider assumptions and challenge the status quo?
HEAR FROM THOUGHT LEADERS
If you still don't believe how understanding your gifts and limitations can improve your work experience and overall life, check out what these top business leaders and authors have to say.
John Maxwell, author, speaker, and founder of Maxwell Leadership:
Whether you're joining the workforce, volunteering at church, or figuring out what to do in retirement, right now is the time to begin living your genius.
Dave Ramsey, nationally syndicated talk show host and New York Times best-selling author of The Total Money Makeover:
Lencioni has come up with another idea that is going to transform the way people see themselves and their jobs, whether they work in a corporation or from their living room. Every person I know needs to read this book.
Greg Longstreet, president, and CEO of Del Monte Foods:
All of our senior leaders at the company have applied the Working Genius, and we've noticed undeniable changes in the way we see ourselves and work together. The impact is as practical as it is immediate.
Dan Klock, CEO, Bridgetown Natural Foods:
The best thing ever to come from Patrick Lencioni.  I won't think about my team and my business the same way again.
Whether you're running a business, volunteering at school, or managing a family, know that your Working Geniuses can be applied to every kind of work in life! You'll experience more joy and energy while at work, and eventually eliminate activity that leads to frustration and burnout.
SO WHAT ARE YOUR WORKING GENIUSES?
If you'd like to learn more about how the Working Genius Assessment works or are interested in improving your company's culture and growth development in the New Year, contact Chris Naylor today! You can fill out an online form to schedule a consultation or contact Chris at (612) 802-9137.