Discover EOS
As an Expert EOS Implementer™, I help entrepreneurs and their leadership teams solve root problems, lead more effectively, and gain Traction® in their businesses through a simple, proven operating system: the Entrepreneurial Operating System®, or EOS®. To learn more about my EOS Implementation services, please visit my EOS Worldwide microsite.
With a set of timeless business principles and real-world tools, leadership teams of growth-oriented companies systematically and permanently improve—getting clear on their vision and strategy, becoming more disciplined and accountable, and gaining better traction for a healthy, cohesive organizational culture.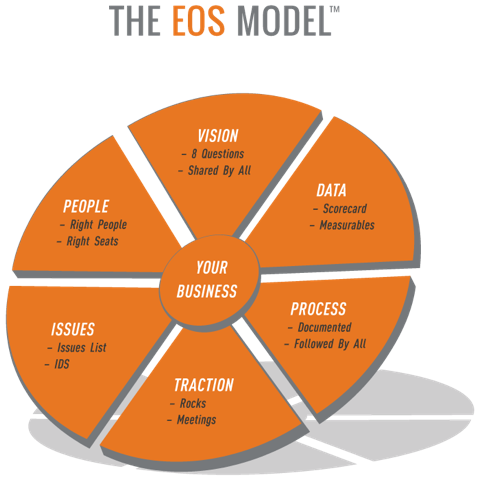 Benefits of a Proven Business System

A secret ingredient to the success of the system is an Experienced Implementer

Expert Implementer
[

ek

·

sprt

ˈimplə-men(t)ər] • noun

---
a hand-selected and rigorously trained skilled facilitator who can help you transform your business
A good Implementer...
knows that you and your team can create your own best answers and is experienced and trained to bring out your best ideas and thinking.r
A great Implementer...
will naturally see how you aspire your business to be and will work hard to help you and your team achieve its potential and achieve peak performance.
Stop staring at mountains. Climb them instead. Yes, it's a harder process, but it will lead you to a better view.

- Author Unknown