A 5-Part Series for Building a Culture of Greatness
CULTURE DRIVER #1 – CREDIBLE LEADERS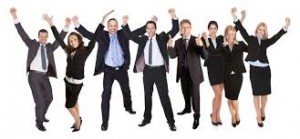 On a scale of 1 to 5, how would you rate the quality of your company's culture?
Do employees stay long-term?  Are they productive and engaged, with a high level of job satisfaction?  Do they find work meaningful, with plenty of growth opportunities?  If so, you might be leaning more toward a "5."
However, if you have high turnover, low productivity, flat profit or difficulty filling positions, you might have a culture issue.
Culture is the character or personality of your organization – a blend of core values, beliefs, attitudes and behaviors.  It's an unseen-yet-ever-present energy that drives an organization.  It can steer a company up or down, keep it on mission or force it off-course.
It also drives growth and profit.  According to Jim Stengel, author of GROW, companies with purpose-driven cultures outperform the competition by 400%!
Building a strong culture is a "must-have" in business today, but it requires thoughtful planning and purposeful design.  The following series offers 5 Drivers of Culture:
Credible Leaders
Clear and Compelling Vision
Core Values
Aligned Systems
Right People, Right Seats
Let's start from the top – with a culture inspired and exemplified by credible leaders.
CREDIBLE LEADERS
Strong leadership is the first and most critical component of developing culture.  You and your leadership team set the tone by designing, developing and driving culture through the company.
Whether CEO, business owner, coach, military commander, or principal, there's usually one primary leader who serves as the key catalyst of culture, having the greatest influence and impact on the rest of the organization.
Just a few examples:  Herb Kelleher, founder of Southwest Airlines, Mark Zuckerberg, CEO of Facebook, 4-Star General, Colin Powell, Mike Krzyzewski, head coach of men's basketball at Duke, and Pat Summitt, who led the Tennessee Volunteers women's basketball team to 8 national titles.
All of these leaders have had a powerful and pervasive influence on their organization's culture.  If we study their techniques and styles, we'll see that they create an experience that keeps their people engaged and motivated to work for their organizations.
Credible leaders also cultivate other leaders who impact the organization – molding, monitoring and maintaining a winning culture.  They exert a continual influence on what's acceptable and unacceptable.
If you've read TRACTION or worked with an Expert EOS Implementer, you're all too familiar with the phrase, "As the leadership team goes, so does the rest of the organization!"
For an organization to fulfill its potential, a culture of greatness comes from its leaders who create a "culture engine" that inspires employees, drives results and transforms the workplace across the company!
To take your leadership skills to new heights consider a mindset of continuous improvement.  Some proven online leadership skills assessments include:
Leadership 2.0: A Step-By-Step Program to Take Your Leadership Skills To The Next Level
Strengths Based Leadership: great Leaders, Teams, and Why People Follow
Stay tuned for next month's article on Building a Culture of Greatness through Culture Driver #2: "Creating a Clear & Compelling Vision."