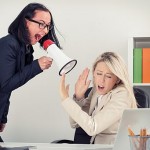 Steve Jobs.  Jeff Bezos.  Elon Musk.  These leaders are considered the most extraordinary business visionaries of our times.  We love their products:  Apple, Amazon and Tesla.
Yet these passionate, inspiring and charismatic leaders were known to be relentlessly hard on employees, even cruel, to get them to perform better.
Why would these brilliant men behave at times in such destructive ways?
There is a saying that genius covers a lot of sins.  Apple, Amazon and Tesla are great products, but to see the truth about their culture you have to look behind the curtain.
It's also a known fact that financial success and power can create a sense of superiority that excuses leaders from the ordinary rules of social engagement and civility.
Now enter the principle of "followership," where employees are willing to compromise their values, family time and health for a visionary —  to earn more position and power.  Further fueling this dynamic, employees, the media and others tend to describe great leaders in terms typically reserved for superheroes or deities.
Today, best business practice demonstrates that high performance cultures are a byproduct of workplaces that help employees become healthier and happier.
Leading a company is a huge privilege and an even bigger responsibility. With that said, it's imperative that we check in with ourselves —  and have a mentor in place or other trusted advisors or friends who can call us on the carpet of we're out of line.
Given the powerful and potentially destructive leadership/followership dynamic above, we have to continually ask if we've let the demands of our position deteriorate our demeanor, and if we're prioritizing employees as much as profits.
In his book, "Conscious Capitalism," John Mackey, co-CEO of Whole Foods Market, writes, "A company built on fear and stress is like a house infested with termites.  It may look fine from the outside, but it is being eaten away from the inside until it just collapses.  A conscious culture facilitates the growth and evolution of the individual as well as the business."
As an EOS Implementer and business coach, I'm passionate about helping leaders and teams build strong, enduring cultures of accountability and high performance.  One of the most brilliant tools in our EOS Toolkit is called LMA – Leadership Management and Accountability, which goes to the heart of what it takes to create great leaders and managers who are more accountable and get better results.
One little nugget out of LMA is to "praise in public and criticize in private."  If we'd do only this one thing, we'd build up rather than tear down our work relationships.
Albert Einstein once said, "Try not to become a man of success, but rather a man of value."
It's possible to challenge and care for people at the same time. We truly can fuel our growth by fueling theirs.